Anonymous said: Oh yeah and don't forget that by shoplifting you are literally costing people their jobs. Wanna hurt the big mean old corporation's bottom line by shop-lifting? They'll just cut hours and outright fire people to get profits back up. Congrats, now a family is going to have to go on welfare because you wanted free shit.
For every item that is stolen, the average company must sell two of that item to recoup the costs. The more their gross margin drops, the more people's jobs are threatened.
The conflict in Syria has forced two and a half million people to flee the country. Neil Gaiman visits two refugee camps in Jordan run by UNHCR and hears the stories of some of those who have escaped the violence and terror to rebuild their lives in these cities in the desert

This is my article for the Guardian about my recent trip to Jordanian refugee camps. It's really important. (I mean it.)

Please read it, and if you are moved by it, or just informed by it, share it in every way you are able.
A collection of snapchats from the Met.
For Ibrahim, life was bleak.

Bedbound and paralyzed as the result of a car accident over half a year ago, he had not had a visitor from his family in months and was in desperate need of life-changing surgery that the Saudi Arabian could not afford.

Alone and isolated, there was not too much joy in Ibrahim's life.

That was until he posted a tweet aimed at encouraging one of the few followers he had to come and visit as he lay paralysed in his bed.

With his tweet he hoped that at least one sympathetic person might hear his call and provide some much craved company for him.

What he did not expect was the social media storm that it would create.

Within one day Ibrahim's tweet became the most retweeted message in Saudi Arabia's Twitter history.

The hashtag #VisitIbrahim circulated through social media circles and within just 24 hours it had been retweeted over 200,000 times.

Not only that, but Ibrahim got a lot more than he bargained for when hundreds of people from all over Saudi Arabia came to visit him.

Clutching flowers, pizza and other gifts there were cues of hundreds of people outside the King Khalid University Hospital in the country's capital Riyadh, all with the aim of meeting Saudi's latest social media star.

The hospital became so busy that its officials had to put a temporary ban on all of its visitors as the number of people in the building was affecting the work of its staff.

Yet Ibrahim did not only benefit from the tweet in terms of footfall and flowers, so compelled were the Saudi Twitter community by Ibrahim's story that they contributed financially towards the life-changing surgery Ibrahim dreamed of.

The surgery which would cost $130,000 and involve Ibrahim travelling to Germany was quickly covered by the generous donors from the oil rich middle-eastern country.

Pictures showing visitors posing, talking to and even feeding the paralyzed man were posted on Twitter.

It is now hoped a trip to Germany can be organised soon so that that Ibrahim can get the surgery he is so in need of.

Alhamdulilah 3la ni3mat al islaam
When Hats Wore People Part 8. All these women were in a big group photographed at State Government House, then in Malvern, a sedate suburb of Melbourne, in 1906. No further details are known but it's safe to say they weren't there for the custard-wrestling. They were probably some sort of charitable committee to support impoverished milliners - or a furtive feminist cabal. Photographer unknown, now in the State Library of Victoria picture collection.
The doll show in Kew is only one week away! I'll be there selling my clothes, as well as shoes and some second hand stuff. There's at least two other bjd related traders going. There's also table space for doll meets, and a little cafe of sorts selling tea/coffee and food.

I know a number of people were upset at the sudden ending of the Melbourne Doll Markets last year, so it would be great to see support for this event to keep it going.
Peppermint Circus (that's me!) will be there too! I'll be selling clothes for YoSD, Mini (of various sizes including Chicline and MNF), and Blythe. I'll have corsets, Wa-Loli dresses, and all sorts of things. Here's a pic of one of the corsets: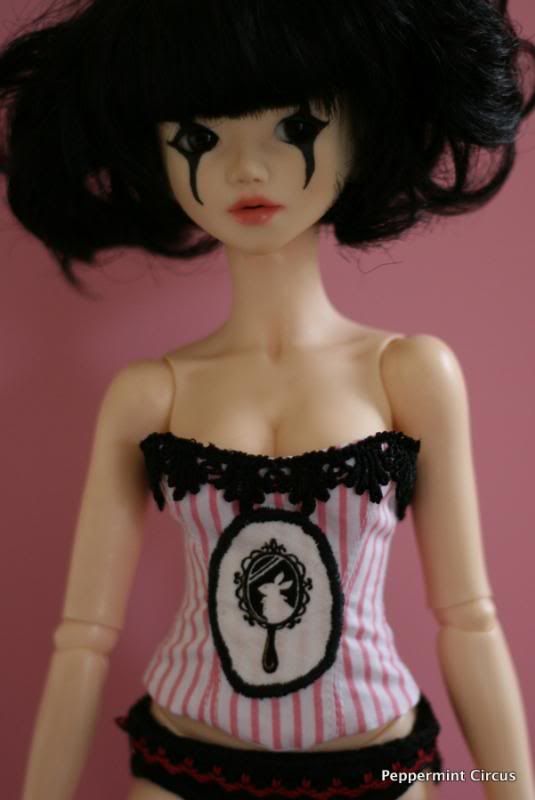 Hope people can come along! 
The stunning sight of hundreds of bright blue butterflies was almost too much for the six-month-old kitten, Lepa, as he bounced over and started trying to catch them. The comical chase was captured by student Natalia Moldovanova in Leningrad Oblast, Russia. After awhile Lepa got tired and collapsed among the butterflies, seemingly in paradise | Article.
What does it mean to be "productive"?

As someone who has struggled with life-long depression, and other problems that cause a depletion of spoons, one of the ways that I've shamed myself most is with this idea of…
Lief's Logo Sailor Ribbon Series