The doll show in Kew is only one week away! I'll be there selling my clothes, as well as shoes and some second hand stuff. There's at least two other bjd related traders going. There's also table space for doll meets, and a little cafe of sorts selling tea/coffee and food.

I know a number of people were upset at the sudden ending of the Melbourne Doll Markets last year, so it would be great to see support for this event to keep it going.
Peppermint Circus (that's me!) will be there too! I'll be selling clothes for YoSD, Mini (of various sizes including Chicline and MNF), and Blythe. I'll have corsets, Wa-Loli dresses, and all sorts of things. Here's a pic of one of the corsets: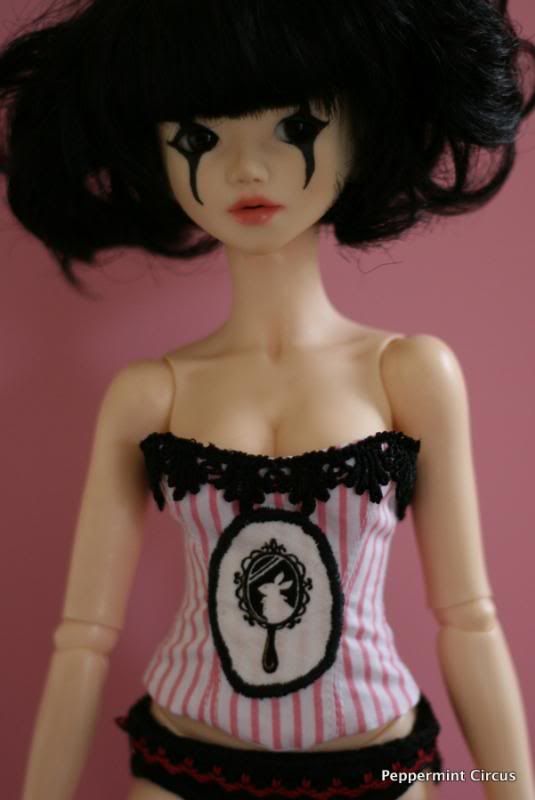 Hope people can come along! 
The stunning sight of hundreds of bright blue butterflies was almost too much for the six-month-old kitten, Lepa, as he bounced over and started trying to catch them. The comical chase was captured by student Natalia Moldovanova in Leningrad Oblast, Russia. After awhile Lepa got tired and collapsed among the butterflies, seemingly in paradise | Article.
What does it mean to be "productive"?

As someone who has struggled with life-long depression, and other problems that cause a depletion of spoons, one of the ways that I've shamed myself most is with this idea of…
Lief's Logo Sailor Ribbon Series
god pLEASE

TAG YOUR PORN

I want all of these. >/<

*wheezing groan*
aquaman that is bullshit and you know it
A Midsummer Night's Dream [x]
These exquisitely deft fashion drawings of quintissential cashed-up-flapper finery were imported or made for Manton's, a publisher on the fourth floor of the Nicholas Building, in Melbourne in 1929. At least one of the fashion drawings — or maybe the job lot of them — is probably a design by Rosine Perrault of Rue Royale, Paris, who was Christian Dior's mother's dressmaker. Each drawing is on a loose page about A4 size, and every frock is accompanied by a hand-written description in French, and a plain, pencil drawing of the back view. Most of the clothes are silk or taffeta. The drawings are done in a steady hand with lead pencil and probably gouache (traced from a rough sketch, I'd wager) on semi-transparent, stiff paper, a bit like baking paper. Hidden away together in a box since 1929, aside from rare outings, the colours are stilll bright - look at those magenta cheeks! I tried to find the name of the illustrator but it was no go. The Nicholas Building was the last in Melbourne to employ lift operators - until 2012 - and now houses interesting shops and artists' studios.

The drawings are part of the picture collection at the State Library of Victoria.
Just give it to me straight doc